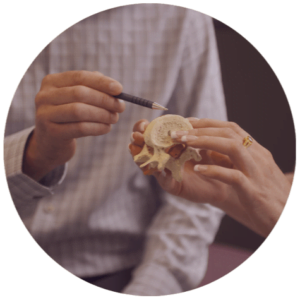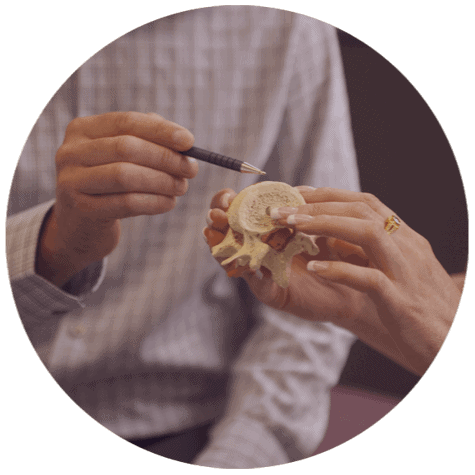 What's Next? What To Expect After Your First Visit
Congratulations on your commitment to total health! You may have questions after you read the literature you received, please feel free to ask Dr. Nunez at your next visit. Our goal is to answer all of your questions and together, working as a team, meet your health care goals.
Most patients feel better after their first treatment; although some patients may experience soreness or even feel worse temporarily. This soreness may be due to your body not being used to being in alignment. The longer a problem has existed, the more likely this is to occur. You may also feel tired. If so, rest, take a nap, or get to bed early.
You may notice small marks on your ankle and back. These are reference points to assist the Doctor in locating the exact vertebrae in the spine to adjust. They usually wear off quickly, however, if necessary, use alcohol wipes or some cream and tissue to rub them off. For you future visits please avoid the use of colognes or perfumes if possible. Thank you!
Some patients experience feelings of sadness, anger, etc. at some time during their treatment. If this occurs, report these feelings to the Doctor. It is our belief that strong or intense emotional experiences from the past, as far back as childhood, may be retained in the body as muscle tension. Often, as we treat these muscles, stored up feelings are released. Patients who have experienced this say, "I was able to let go of some anger that I was holding on to for years", or "I feel like I've been transformed!" These feelings generally pass through within a day or so leaving patients feeling renewed.
We are striving to give our patients a feeling of total health. Having an experience where our mind, our emotions, and our body are in harmony and balance is true health! Congratulations again on your commitment to total health. We look forward to seeing you at your next visit!
Suggestions to Follow During the Healing Process
Avoid rubbing, probing, or "poking" in the areas your doctor adjusts. Use an ice pack if you are sore, 15-20 minutes every two hours as needed.
Avoid sudden twists or turns of movement beyond normal limits of motion. Do not "crack" or "pop" your neck or low back.
Avoid extreme bending of your spine in any direction; avoid stretching, reaching, or other overhead work. When getting your hair washed at the hair salon, have your neck well padded with towels.
When picking up objects, bend your knees to minimize the strain on your lower back. Ask for help frequently when you are at your worst, don't try to be a hero.
When lifting, keep your back straight; bend your knees and let your legs bear the strain. Hold the object lifted as close to your body as possible. Avoid all heavy lifting in the early treatment stages.
Participate in simple exercises, especially walking, to strengthen your body but avoid jarring activities which place stress on your neck and spine. Beginning a walking program is an excellent choice as you begin to feel better. Ask Dr. Nunez for his recommendations.
Watch your posture regularly; stand tall, sit tall and THINK tall!
Be patient! The more injuries you had in the past the more likely it is that your recovery will be more gradual. Stick with it.
Occasionally bruises may appear after treatments. This is a normal effect of deep muscle work. Be sure to tell Dr. Nunez if it happens.
Practice the belly breathing as instructed at least 5 minutes a day. Drink plenty of water.
Rest, Relaxation, and Sleep
Set aside a special time each day for complete mental and physical relaxation. This is important in the restoration - as well as maintenance - of total health. Naps are encouraged! Do belly breathing during this time.
When sitting, choose a chair that has adequate back support or place a small pillow in the middle of your back, and then sit straight. Avoid too soft, overstuffed chairs. Recliner chairs are acceptable but not to sleep in.
Be sure to get plenty of sleep to allow your body to recuperate and repair. Sleep on a firm mattress to medium firm – not extra firm.
Your pillow should support your head so that your neck vertebrae will be level with the rest of your spine.
Sleep on your back or on your side with your legs flexed slightly, not drawn up tightly. Avoid sleeping on your stomach.
Rise from bed by turning on your side and swinging your legs off the bed, then push yourself into a sitting position with your arms, thus minimizing the strain on your back.
Do not sleep sitting in a chair or in cramped quarters especially while watching TV. Lie down in bed when it is time to sleep.
ASK DR. NUNEZ ABOUT ANY PHASE OF YOUR HEALTH CARE AT ANY TIME!